Villa Le Caggia
We are a completely restored Tuscan Villa set in an extremely peaceful setting of the Tuscan countryside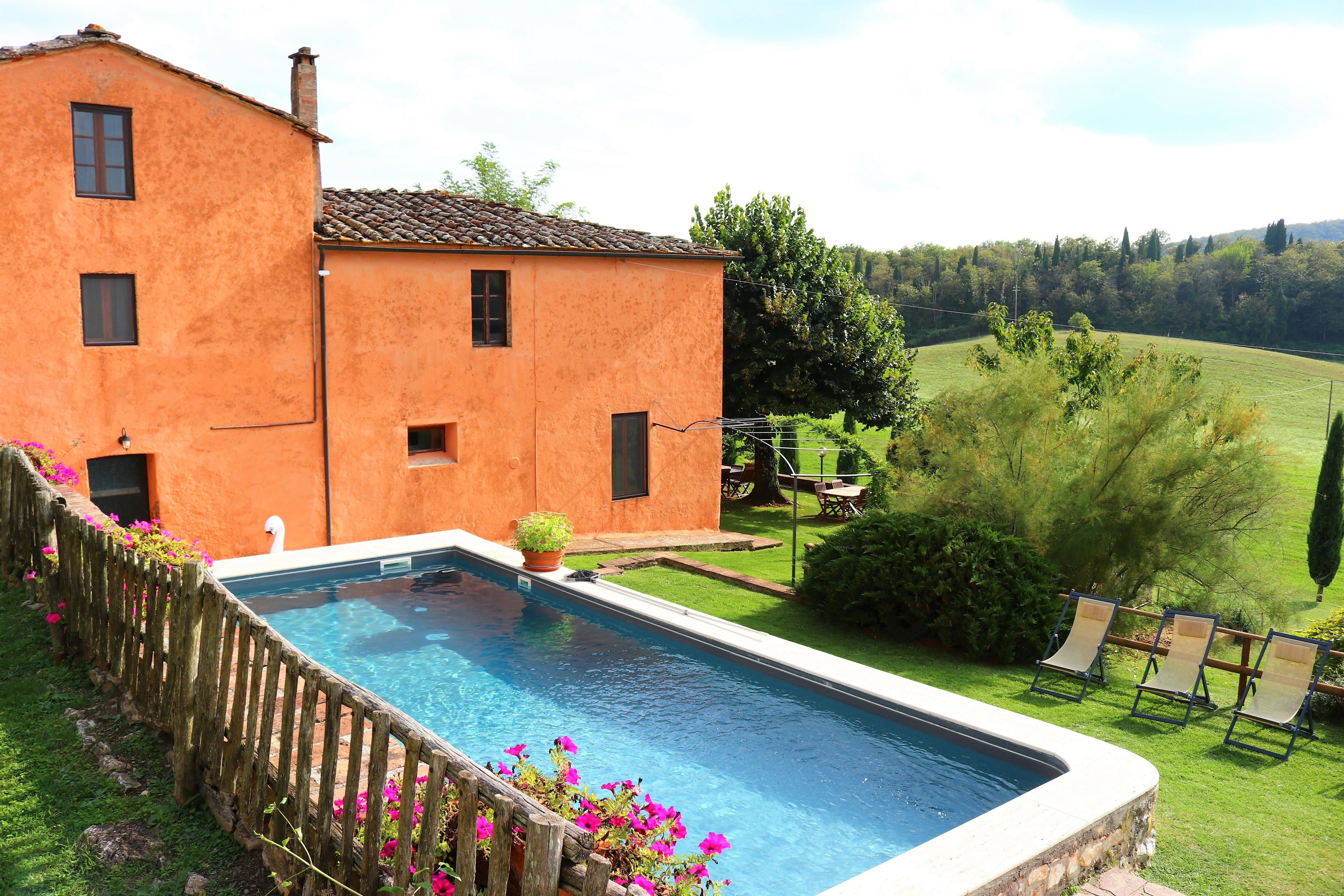 Our Charming Tuscan Villa with pool all exclusively for you
Surrounded by the beauty and close to the most famous spots of art in Tuscany such as Siena, Florence, Chianti Region, San Gimignano, Volterra....
Villa Le Caggia is an enchanting country villa set in a clearing surrounded by vast woods of holm-oak and chestnut alongside cultivated open fields all nestled in the tranquillity and peacefulness of the Tuscan countryside.
In ancient times, the Villa was a 15th century farmhouse on the estate of the Castle of Celsa, and even today, transformed into a well-appointed 3800 sq.ft. Villa with all the comforts available to our guests, it retains some remnants of its history.
It is the perfect place for your relaxing holiday with your friends and family.

Let our large country home become yours - experience, relax and explore.
Breathe the air cleansed by ancient woods.
Listen to the real silence of the countryside softly enveloping you.
Watch the night sky without light pollution and discover the magic of fireflies.
Discover Tuscany from a central location, close to Siena.
THE PROPERTY IS FOR YOUR EXCLUSIVE USE, NOT SHARED WITH OTHER GUESTS OR OWNERS.
The impressive garden complete with a private swimming pool and an authentic
wood-fired hot tub allows you to enjoy a relaxing holiday and is perfect for taking time out and lounging about while sipping on a glass of local wine or enjoying a BBQ. On request we can arrange a delicious and traditional Tuscan meal of your choice.
The property shares the tranquility of the Tuscan countryside with proximity to major Tuscan sites and is ideal for family reunions or getaways with friends.
The location of the Villa makes it easily accessible to some of the most beautiful destination in Tuscany such as Siena (15 Kms), Firenze (one hour driving), Pisa, San Gimignano, Volterra, Monteriggioni, Chianti Area, Montepulciano, Montalcino, Pienza, etc.
I contenuti di Youtube non possono essere mostrati in virtù delle tue attuali impostazioni sui cookie. Clicca su "Accetto e mostro il contenuto" per visualizzare i contenuti e accettare le impostazioni sui cookie di Youtube. Per maggiori informazioni, ti invitiamo a consultare la nostra Dichiarazione privacy. Clicca qui per ritirare il tuo consenso alle impostazioni sui cookie in qualsiasi momento.
Accetto e mostro il contenuto
What We Can Do For You
We can provide anytime you want during your stay at the Villa our special
Tuscan meals and services.....Cooking Class, Typical Tuscan Dinner, Breakfast service, delivery grocery on your arrival day, also at the Villa you can find a large selection of tuscan wines.

Do not miss our 'Prima Cena'(first dinner), on your arrival day, after a long journey, you have the opportunity to enjoy a delicious dinner without worrying about finding a restaurant or prepare something by yourself.

We could provide a pick up service from Roma, Florence, Pisa or Siena and also we could gives you the opportunity to rent a car(or more then one) that will be delivered directly into the parking of the Villa or we can rent on your behalf cars directly to the rental agency close to the Siena train station

We can arrange a private tour in San Gimignano and Siena with a private giude that show you the beauties of Siena, also we can arrange a visit at Castello di Brolio in the Chianti Classico area, for wine tasting and discovering the fascinating history of this castle
We also propose other customized tour for the best tuscan spots or wineries. Don't miss a visit to the Val d'orcia with Montalcino, Montepulciano or Pienza.

We can deliver for you to the Villa professional masseurs and a personal trainer if you will like it.

We suggest you one of our hiking tpour around the villa (from 5 to 10 km) with the visit to the Celsa Castle's garden.

Horse rides, air ballons, vespa tour and much more to customize your dream vacation..
The Lodging
Villa Le Caggia is completely restored villa set in an extremely peaceful setting of the Tuscan countryside
The villa consists of 7 bedrooms and 7 bathrooms and can comfortably accommodate up to 16 people.

It features:
• A large fully-equipped kitchen(3800 sq.ft), with a Professional 6 Burner Range.
• A large dining room with fireplace
• One large living rooms
• Flat Tv, docking station, Stereo, Xbox with Kinect, DVD player, private phone
• Six King size bedrooms
• One Queen size bedroom
• Six bathrooms with shower(4 ensuite)
• One bathroom with shower and tub
All bedrooms have A/C
In two bedrooms is possible to add an extra single beds
Two Baby cribs and high chair are available
Depending on the use some bedrooms can be turned into twin beds bedrooms
Internet Wifi is available (included in the price)
Laundry room with washing machine and dryer, ironing board and iron
The Outdoor Area
The house is enclosed in its own grounds, has its own Hot tub, swimming pool that uses a safer and more natural system to purify the water and a large tidy garden(4000square meters) all around offering peaceful scenery, with tables and chairs for dining al fresco and several comfortable relaxing spots to enjoy the spectacular view and the colours and perfumes of the surrounding nature. If you enjoy cooking outside try barbecuing, overlooking the panorama or catching an amazing sunset.
This is a great property for large families or groups of friends travelling together who still wish to have their own space, away from the hustle and bustle of the cities.